About SJB College of Nursing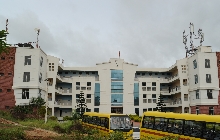 SJB College of Nursing was established in the year 2003, under Sri Adichunchanagiri Shikshana Trust with an aim to provide quality Nursing education and to prepare nurses with the highest level of education and nursing practice.
SJB College of Nursing is attached to its own hospital, BGS Global Hospital, a multi speciality organ transplantation and tertiary care center, established in the year 2006.
Sri Adichunchanagiri Shikshana Trust was established in the year 1971. There are 475 institutions under this trust benefitting more than 1 lakh students every year.
What makes our students more successful professionals?
The answer lies in the experienced and well qualified faculty members, laboratory facilities and system of sharing the knowledge with friends, teachers and society. Sincerity, punctuality and hard working nature are inculcated during study in the campus, which has become their inheritance.
Unique features of the Institution
The college is situated in an eco friendly atmosphere.
The College is recognized as one of the top nursing colleges in Karnataka.
Students from this College have been well placed in best health care institutions both in India and Abroad.
College of nursing has distinct faculty with post graduate qualification coupled with vast experience gleaned from the clinical field.
Need for the Programme
Nursing is a highly regarded profession for honesty and ethical standards. In India, nurse shortages occur at every level of the healthcare system. According to the World Health Organization, India needs 2-4 million nurses to achieve the governments aim of a nurse patient ratio. In USA, there is a need of an estimated ten lakh nurses from abroad over the next decade. There are many exciting career opportunities for nurses that expand well beyond the general realm of basic health care.
BGS Global Hospital & SJB College of Nursing accept and abide by the following philosophy.
We believe that -
Logical thinking and self confidence are the basic qualities which help students to achieve academic excellence.
Formal education and clinical training are the foundation for nursing which recognize and address the health care needs of an individual, community and society as a whole.
Good infrastructure and serene atmosphere pave way for increased motivation to learn. Basic facilities like well equipped classrooms, laboratories and provision of clinical experience are essential for providing comprehensive learning experiences.
Adequate clinical experience enables students to develop clinical skills, problem solving skills, interpersonal skills and helps to be socialized into the formal expectations of the nursing profession.
Nurse leaders are required to address the political, social, ethical, economic and policy issues that affect the design and delivery of health care in various settings.
Knowledge of ethics and professional code of conduct is essential for personal and professional practice.
Nursing education prepares students as professional nurses as well as responsible citizens.