Message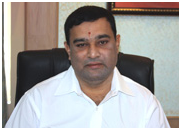 BGS Global Hospital, under the divine directions of Padmabhushan Sri Sri Sri Dr. Balagangadharanatha Maha Swamiji, commissioned multi speciality hospital in the garden city of Bangalore, in association with the Asia's leading health care provider, Global Hospital, Hyderabad. We are glad to mention that within a short period, the hospital has achieved many mile stones in the medical history. We are glad to see the happiness of patients from all walks of life, by the benefit of this Hi-tech medical facilities, under one roof, at affordable costs. The trend will give us lot of encouragement in providing more and more latest medical facilities in the near future, thus cutting down the exodus of patients to other, cities, in search for higher modality medical care.
To add up more arrows in the armory of knowledge, the BGS Global Hospital is happy to introduce the defined Nursing courses under SJB College of Nursing. This shall fill up the demand and supply gap of Trained Medical Technologies, creating an immense job opportunities. Being a leading front in the field of education training, rehabilitation research and hospital care, BGS is committed to produce professional nurses in all fields of Health Sciences.
I pray the Almighty Lord Sri Kalabhairaveshwara to bestow blessings on all the students, aspiring these professional courses towards becoming a committed nurse and responsible citizen.
Reverend Sri Sri Prakashnath Swamiji
Managing Director, BGS Health & Education City